I first found this Author when for some reason I ended up following him on
Twitter
. When I read the
behind the scenes story
of how 'Wild Child' came to be published and the story behind its cover art I was intrigued, yet I was never converted to making the purchase. But when I then saw that it had become free on Amazon I downloaded it immediately and it moved faster than anticipated to the top of my TBR pile as I read more and more about the book. I have to admit this was not what I was expecting, but so much more.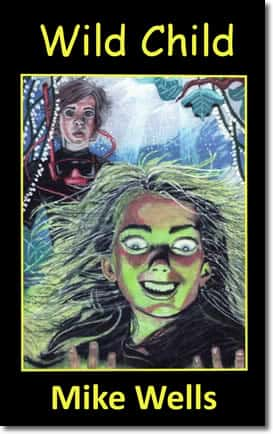 Summary courtesy of Amazon: Briana Fox is the wildest girl in school. She and Kyle have been close for a long time...almost lovers. But Kyle is afraid that if he pushes her, he'll have his heart broken and lose his best friend. When Briana challenges him to a swim across the lake, she's injured in a horrific accident, but she discovers a mysterious substance in an underwater cave that saves her life. What seems to be a magical yet harmless "power drug" invokes superhuman abilities, and Briana soon becomes dependent on it for her very survival. When two government agents learn of the discovery, they will stop at nothing to find the source and turn Briana into a human experiment. Is Kyle willing to risk everything to protect his love?
When I started reading this I was expecting a novel, but instead I was presented with a perfectly formed short story. Taking me just over 2 hours to read this book sucked me into the murky depths of the lake with Kyle and Brianne (referred to in the book as Brie) and only came up gasping for air once finished. I had read reviews that it was gripping and fast paced but I didn't really understand what this meant until I began reading. The YA themes of teenage defiance of parental rules and awkward romances is over shadowed by a surprisingly thought provoking narrative, that developed into a fantasy science fiction themed focal point that is completly unexpected.
The character of Brie, although essential to the narrative, I felt very little connection to unlike the protagonist Kyle, who is fantastic! With his ability to both panic and stay calm under pressure, his devotion to Brie and the relationship with his Father creating a well developed and interesting character that I only want to know more about. What truly cemented my admiration for this fictional boy was the cliff hanger of an ending that left me with far more question that answers, and possibly the best reason to get my hands on the next book in the series!
The only downside however being the next book in the series. Now being a Kindle lover, I have become accustomed to only paying a certain amount for a eBook. Promising to be as 'lean' as the first one I am finding it difficult to bring myself to pay the £3.65 being asked for the rather unimaginatively named 'Wild Child Book 2' with the world 'Lilith' added on to the end almost as an after thought.
Overall I would give this book a 8/10.
You can book this short story up for free on
here
, but no promises you wont feel as frustrated as me when you are forced to pay for the second one!
Thanks for reading,
Love Rie x